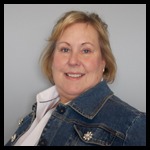 Cell Phone: 804-357-1891
Email: JBest77221@aol.com
Jan was born and raised in Henrico County, Virginia. However, she has lived the majority of her life as a resident of Mechanicsville. Being raised in a family who owned furniture businesses in Mechanicsville and Chesterfield, she began her selling career as a small child. Needless to say, as an adult she owned and operated her own furniture store in Mechanicsville for many years. When she closed that particular store, she worked for an upscale outdoor furniture business called Summer Classics. From the beginning of this job until her last day, she far out ranked the other sales people selling approximately $80,000 to $100,000 in outdoor furniture per month!!
What makes her a delightful and productive sales person is her out going and frank personality. She never knows a stranger; she loves working with people and more importantly she loves making the deal. Jan always strives to learn something new and she has been enthusiastic student/participant in EXIT Realty Parade of Homes' in house real estate sales training program.
Jan, having lived in Mechanicsville for over the past 25 years, raised her children in the Mechanicsville school system and has wealth of knowledge of the people who live there. Everyone who knows Jan, knows that if you want something done… call her and she will make it happen. Her strong points include her frank and honest approach to life, business, plus her loyalty to friends and co-workers.