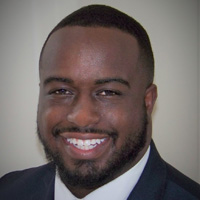 Cell Phone: 804 221-9665
Email: kirbysellshomes@gmail.com
IF YOU ARE LOOKING FOR A REAL ESTATE AGENT WITH DRIVE AND DETERMINATION THEN LOOK NO FURTHER FOR THIS IS YOUR MAN, TYVAUGHN KIRBY-JOHNSON. Determination comes from his mother who gave him a hyphenated last name long before it was a popular thing to do. Today, his family and friends call him Kirby or Tyvaughn if he happens to be in trouble.
However, trouble is not a word that is used to describe Kirby. You'll discover that he is thoughtful, detail oriented and has a drive to success and be the best at this game. While attending Virginia State University, where he obtained a Master's Degree in Counseling, he played defensive end for the school's football team. While he played football for his team, they won two major championships.
Prior to obtaining his master's degree, Kirby obtained a degree in health and physical condition but he prefers to work with high school kids to guide them in the right direction for their future. Proudly, Kirby served six years in the National Guard. He truly believes in giving back to his country.
How did a man with this background come to the real estate industry? He says that he was born in it as his Grandfather dealt in real estate by buying houses and leasing them, his father was a loan officer and his mother still holds a Virginia real estate license today! The love for real estate just continues to grow.
Raised in North Chesterfield, he attended Byrd High School along with his two sisters, Today, his spare time is spentwith his young son, Angelo. Kirby works hard to provide special opportunities for his son.Once you work with Kirby you will appreciate his dedication to you and your real estate needs.
We are proud to have him on our team.